Neurodreamer
®


sleep mask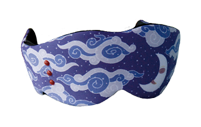 Limited Quantities Available!
There are two versions of the sleep mask:
Sleep:
Use your own brainwaves to get the rest you need. Includes 5 sleep songs, each 20 minutes long, corresponding to a person falling asleep.
Lucid Dreaming:
Learn to control your dreams! Also includes 2 sleep songs to help get the rest you need.