TVBGONE kit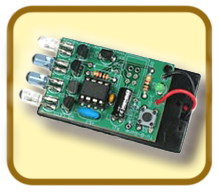 Turn off TVs everywhere you go!
Solder this kit & turn off TVs from up to 50 meters away!
Now you can choose when a TV is
on or off!

at a restaurant!
at school!
in waiting rooms!
at airports!
everywhere there's a TV!
This kit is designed for anyone to learn to solder, and learn how to make cool things with electronics.
Assembly instructions and more info available from
this kit's page at Adafruit.
Make yours today,
and never leave home without it!
To Order
TV-Be-Gone Kit
For Bulk or Wholesale orders, please email us at: ma