Soldering Toolkit
Everything you need to start soldering!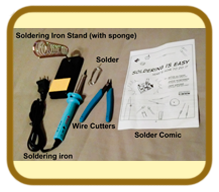 Soldering is fun, easy, useful, and awesome!
We tried lots of different inexpensive tools,
and put together the best ones for you.
Here's what you get:
Soldering Iron (110VAC, 30W)
Soldering Iron Stand (with sponge)
Solder
Wire Cutters
Soldering Is Easy! Comic Book
This is a perfect starter toolkit
for soldering all of the cool kits
on our site,
plus make, fix, and take apart
countless other cool things.
To Order
Soldering Toolkit
For Bulk or Wholesale orders, please email us at: ma