Trippy RGB Waves kit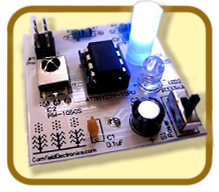 Create interactive art with colored lights!
When left alone, the shiny colored lights change color.
Wave your hand over them, and colors follow your hand...
Here is a nice, trippy video!
This kit is designed for anyone to learn to solder, and how to make cool things with electronics.
Assembly instructions and more info available from our Projects page.
To Order
Trippy RGB Waves Kit
---
For Bulk or Wholesale orders, please email us at: ma